This is an archived article and the information in the article may be outdated. Please look at the time stamp on the story to see when it was last updated.
NEW ORLEANS (WGNO) – It takes real talent when all you've got is a camera and a coffee cup from PJ's Coffee of New Orleans.
It's the same coffee cup that PJ's Coffee owner and coffee lover Roy Bruno has been taking around town and around the planet.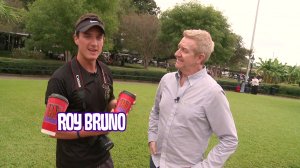 He takes the cup and takes pictures.  Together they are Roy and the Roaming Cup
WGNO News with a Twist features reporter Wild Bill Wood discovers Roy and the Roaming Cup have their own Facebook page.
The cup is particularly photogenic.  It loves to be seen at New Orleans most iconic spots like Jackson Square and any spot in the French Quarter.
And with Roy, the cup can even find a splashy photo finish.