This is an archived article and the information in the article may be outdated. Please look at the time stamp on the story to see when it was last updated.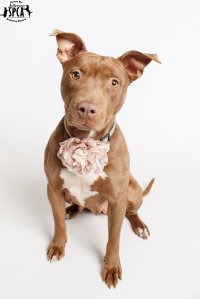 Ruby is an adult, female American Staffordshire Terrier Mix.  She weighs 44 pounds.  Ruby's previous owners' landlord would not allow them to keep her.  She would prefer a child-free and a cat-free home.
Ruby has been such a doll at the Jefferson Parish Animal Shelter.  When she first came in she was intimidated by everything.  She would stay curled in the back of her kennel and not move much.  In order to take her outside you would have to walk all the way back to her and leash her.  Even though she was incredibly intimidated she did not show any signs of aggression.  Volunteers and staff started to spend some time with her in her kennel and she has begun to blossom.  She loves to put her paws on your legs and curl her head into your chest and neck for comfort.  She also enjoys going on walks and exploring the dog yards.  She is not awful on a leash, but does have a tendency to pull when you first take her outside.
Ruby is very sweet, knows sit, and takes treats gently.  She is very treat motivated so we believe that she would do well in training.  She has been good with other dogs at the shelter but prefers dogs that do not get in her face.
The Jefferson Parish Animal Shelter adoption fee is $67.  The adoption fee includes vaccinations, mandatory spay/neuter, heartworm test, and microchip.
To find if this dog is still available for adoption, please stop by the shelter.  Please provide the ID number (EO-12-27-03) at that time.
Jefferson Parish Animal Shelter - Eastbank
1 Humane Way, Harahan, LA 70123
(504) 736-6111
Email: jpasadoptEB@gmail.com to adopt
Email: jpasfosterEB@gmail.com to foster
Click here for more information about Ruby.
Click here for more information about the Jefferson Parish Animal Shelter.