This is an archived article and the information in the article may be outdated. Please look at the time stamp on the story to see when it was last updated.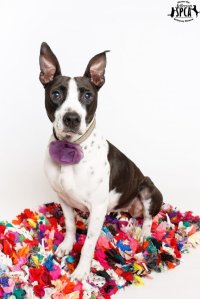 Lexi is a 3-year-old Bull Terrier mix that weighs in at a lightweight 42 lbs, though the Jefferson Parish Animal Shelter has never quite been able to capture just how petite she is in her pictures. This little girl with a big personality is looking for someone to adore and spoil her, and she will return the love exponentially. True to her breed, she is silly and stubborn, but in all the cutest possible ways. Lexi prefers to play with dogs smaller than her and can find larger dogs a little intimidating. However, she gets along with any dog willing to play with her and is making larger canine friends at doggy daycare. Lexi has done well with a couple of the cats in her foster home, but is convinced that one particular feline is her nemesis, and they do not get along. For this reason, we suggest a home with no cats, since we are not sure which cats will be a fit.
This sweet girl is the perfect mix of energetic, fun companion for those who enjoy daily walks and like to do outdoorsy stuff with their dog, yet she can chill, too. Lexi is up to the task for anyone looking for a jogging partner, but also possesses mad couch-potato skills and will rest peacefully if given a place on the sofa. One of Lexi's favorite outings is the dog park, where she loves to run and play, and she is an excellent companion on car rides. Lexi is extremely smart and would do well in obedience training classes or excel in activities like agility training.
Lexi is now ready to go to her forever home, and this has special meaning for this lovable girl, as she came to the JPAS from quite a rough start 4 months ago. You see, Lexi was picked up by animal control after having been tethered to a tree for much of her life. She was in need of surgery for untreated entropion, which is an eyelid condition that is uncomfortable, as well as needing to be treated for heartworms. Lexi is now healthy and whole, having completed all necessary procedures. She also holds no grudges for the previous neglect that she endured and holds people in the highest regard. The JPAS would love to see her in a home where she will receive the compassion and standard care that she deserves.
Lexi is housebroken, current on vaccinations, spayed, and microchipped. Her adoption fee is $67.She is available for adoption through the Jefferson Parish Animal Shelter – Westbank and resides with one of our volunteer foster parents.
Email jpasfosterWB@gmail.com for more information and to set up a meeting.
Click here to learn more about Lexi.
Click here to learn more about the Jefferson Parish Animal Shelter.