This is an archived article and the information in the article may be outdated. Please look at the time stamp on the story to see when it was last updated.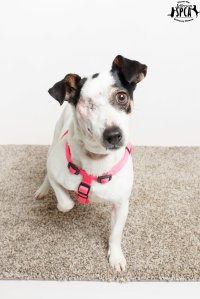 Leela is an adult, female Jack Russell Terrier that was brought into the Jefferson Parish Animal Shelter as a lost dog with an eye injury that went untreated, and the removal of her eye was necessary.  They don't think that had a lot of positive interactions with people and she was fearful and submissive when she first came to the shelter.  Leela went into foster care for a little TLC.  Her foster mom says that when Leela is left alone, she puts her in the bedroom and she doesn't bark or scratch on the door.  She is house trained and loves belly rubs.  Leela recently got her stitches removed and is now starting to play with her stuffed toys and she has grown comfortable enough that she doesn't follow her foster mom around everywhere she goes anymore.  Leela is doing well and is a sweet dog who is eager to please and should do fine in a permanent home.
The Jefferson Parish Animal Shelter adoption fee is $67. The adoption fee includes vaccinations, mandatory spay/neuter, heartworm test, and microchip.
Email: jpasfosterEB@gmail.com for more information.
Click here for more information about Leela.
Click here for more information about the Jefferson Parish Animal Shelter.