This is an archived article and the information in the article may be outdated. Please look at the time stamp on the story to see when it was last updated.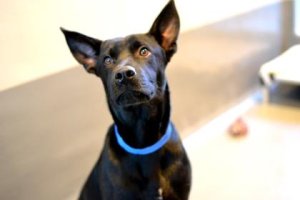 Inky is a male, 7-month-old, Retriever/Labrador/Shepherd mix puppy.
Inky was brought into the LASPCA by a Humane Law Officer.  He's easy going, curious, and full of fun.  He possesses an average activity level so taking him on a long walk and setting aside some playtime will make his day even better!  Once he's tuckered out, he'll be happy to snuggle up next to you or roll over for some leisurely belly rubs.
Inky is a shy fellow who would benefit from some extra TLC to build his confidence.  He will need someone who understands his shy nature and can help him grow into the pup that he was meant to be!
Home for the Holidays info:
Come find your new furry family member in time for the holidays! All adoptables are available for only $25 from December 1 - 23.  After that, the adoption fee for Inky is $80.  Plus, have your new friend delivered on Christmas Eve, Christmas Morning, Hanukkah or Kwanzaa for a $75 donation in addition to the adoption fee! Anyone who wants to have a pet delivered will arrange the date and time with our adoption counselors. Then our delivery elves will bring your howliday joy to your doorstep.
Click here for more information about Inky.
Click here for more information about the LASPCA.