This is an archived article and the information in the article may be outdated. Please look at the time stamp on the story to see when it was last updated.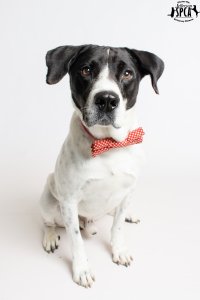 Emmanuel is a 2-3-year-old, 65 pound, male with a loving disposition.  He quickly became a Jefferson Parish Animal Shelter favorite.  Just a brief glance into his big brown eyes reveals the intelligence this young boy possesses.  The staff has taught him some basic obedience commands, he walks well on a leash and cherishes his time out of his kennel.  He is good with other dogs, has shown no interest in cats and is good with children.  Emmanuel has frequently been requested by staff to be the "office dog of the day" as he is so well behaved in the office.  He leans into humans to get as close to them as he possibly can.  This sweet guy is an over-sized puppy at heart and loves belly rubs.  Emmanuel is best suited for a family with an active lifestyle that includes jogging, walking and playing outdoors.
Emmanuel was recently had his DNA tested, to determine his breed ancestry.  The JPAS suspects that he may be a Lab/Pointer/Border Collie Mix.  Please come by the shelter to meet this angel, and let him impress you with the big smile that he has for everyone he meets.
The Jefferson Parish Animal Shelter adoption fee is $67.  The adoption fee includes vaccinations, mandatory spay/neuter, heartworm test, and microchip.
To find if this dog is still available for adoption, please stop by the shelter. Please provide the ID number (SN-12-02-07) at that time.
Jefferson Parish Animal Shelter - Eastbank
1 Humane Way, Harahan, LA 70123
(504) 736-6111
Email: jpasadoptEB@gmail.com to adopt
Email: jpasfosterEB@gmail.com to foster
Click here for more information about Emmanuel.
Click here for more information about the Jefferson Parish Animal Shelter.