This is an archived article and the information in the article may be outdated. Please look at the time stamp on the story to see when it was last updated.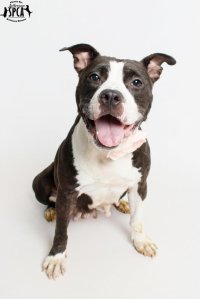 Ellaria is a 3-year-old American Staffordshire Terrier.  She came to the Jefferson Parish Animal Shelter as a stray and was not redeemed.  They could tell that she was an amazing dog straight away and are stumped as to why she was ever a stray in the first place!  Ellaria is likely the sweetest dog in the shelter and consistently gets overlooked by adopters.  She knows how to sit, is calm and sweet, accepts treats gently, and is a huge love bug.  To say that Ellaria "passed her dog test" would be an understatement - she tends to bring out the best in every dog she meets.  Ellaria is a great girl that is easy to pet, touch, handle, and walk on a leash.  She loves meeting new people and dogs.  Ellaria would be the perfect pet for a family.
The Jefferson Parish Animal Shelter adoption fee is $67.  The adoption fee includes vaccinations, mandatory spay/neuter, heartworm test, and microchip.
To find if this dog is still available for adoption, please stop by the shelter.  Please provide the ID number (TB-07-19-01) at that time.
Jefferson Parish Animal Shelter - Eastbank
1 Humane Way, Harahan, LA 70123
(504) 736-6111
Email: jpasadoptEB@gmail.com to adopt
Email: jpasfosterEB@gmail.com to foster
Click here for more information about Ellaria.
Click here for more information about the Jefferson Parish Animal Shelter.