This is an archived article and the information in the article may be outdated. Please look at the time stamp on the story to see when it was last updated.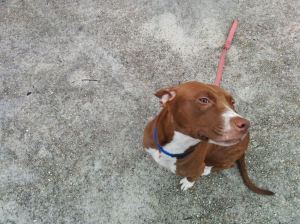 Meet Dizzy, a pink-nosed 1-year-old pit bull / Nova Scotian Duck Tolling Retriever mix.
Her journey began on the road to New Orleans with some transients who found her along the way.  They cross paths with an ARNO volunteer in the Marigny, who told them about ARNO's free vaccination services for indigent pets.
Enter parvovirus a few weeks later, which decimated her gastrointestinal tract and takes her to the brink of death.  Her owners, not knowing where else to turn, carry what's left of her weakened body to ARNO, where she is rushed to the emergency vet.  She fought for her life and came through like a trooper and is now immune to parvo for life!
Over the next few weeks, two ARNO volunteers took turns nurturing her back to strength. They might have done too good of a job, because now that she has a new lease on life she intends on making the most of it.
So, Dizzy loves to play: tugging on rope toys, tugging on leashes, tennis balls, no-holds-barred wrestling, car rides, taking you out for walks, you name it. She's also a fantastic cuddler.
She's great with any dog she meets, and humans of all ages.
Dizzy is currently in foster care.  For more information you can email ARNO at adopt@animalrescueneworleans.org or call 504-669-1908.
The adoption fee is $200 and includes spay, shots, a chip and rabies.
For more information about ARNO, please visit their website.