This is an archived article and the information in the article may be outdated. Please look at the time stamp on the story to see when it was last updated.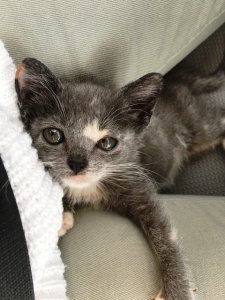 Meet Daisy, an almost 11-week-old, muted calico kitten.  She was found by a Good Samaritan.  JPAS worked together with ARNO to help save her as she was a tiny baby who needed to be bottle fed.  Bottle babies seem so much more loving and attached to people as the only mamas that they know are humans.  And its no different for Daisy.  She is adorable, so sweet, loving and playful.  If you want to give this little rescue who survived against all odds, please email adopt@animalrescueneworleans.org.  The adoption fee is $75 and includes spay, 2 rounds of fcrv, dewormer, rabies, a combo test and a chip.  If you adopt two kittens there is a special fee of $100 for 2.  For more information contact adopt@animalrescueneworleans.org or come by ARNO's no kill shelter between the hours of 2-6pm.
ARNO also has a special for fat cats: $1 off per pound for the month of August!
Click here for more information about ARNO.