This is an archived article and the information in the article may be outdated. Please look at the time stamp on the story to see when it was last updated.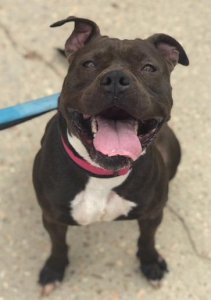 Trylah is about 3 years old, with soulful brown eyes and a dark chocolate coat.  She loves to play tug with ropes.  She is good at walking on a leash, but she is strong and full of energy so she needs long walks or frequent playtime at the park.  Trylah gets along with other dogs and with people of all ages.  She is really smart and can even give you a high five if you ask her nicely.
Trylah's adoption fee is $125 under our Dog Days of Summer promotion and includes spay/neuter, up-to-date vaccines, deworming, a microchip, heartworm test, and heartworm treatment if necessary.
For more information email: adopt@animalrescueneworleans.org. To complete an application, please visit: https://animalrescueneworleans.org/adoptfoster/.
Click here for more information about Trylah.
Click here for more information about ARNO (Animal Rescue New Orleans).