This is an archived article and the information in the article may be outdated. Please look at the time stamp on the story to see when it was last updated.
Voodoo is a bandit-faced calico who was found at a very young age in the engine of a car and was surrendered to JPAS, from where ARNO pulled her to help keep the municipal shelter's kitten numbers down.  She had a tough start in her earliest weeks, but the medical staff at ARNO was quick to diagnose her inability to thrive & made sure she got the very best care which saved her life.  She is now a vibrant, affectionate, playful kitten who loves to hang out on her caretakers' shoulders.  When being handled by her human playmates, she is very fond of belly rubs & playing with dangly toys.  She would make a great pet in a single or multi-pet home as long as she gets the attention this little diva desires.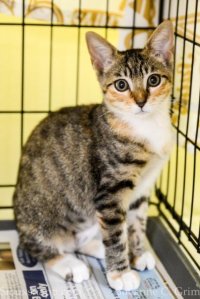 The orange-cheeked tabby-calico kitten, Dolly, was a feral kitten that ARNO trapped with her feral mom.  They were then separated so that the 8-week-old kitten would have a chance at being domesticated so that she could live a long, healthy, happy life.  It took a lot of patience & love from many ARNO volunteers handling her to bring this girl's inner beauty to the outside.  Then when she was introduced to other kittens, her personality really began to dazzle.  She is among the most playful of the kittens in her condo & she absolutely adores being cuddled belly-up so you can rub her tummy & stroke her cheeks.  She would really shine in a home with other pets.  After all, kittens are always best in pairs!
For more info please contact adopt@animalrescueneworleans.org.
The adoption fee is $75 for 1 kitten or $100 for 2 kittens.  This includes spay/neuter, up-to-date vaccines, deworming, a combo FIV/FeLV test, and a microchip.
Click here for more information about Dolly.
Click here for more information about ARNO (Animal Rescue New Orleans).