This is an archived article and the information in the article may be outdated. Please look at the time stamp on the story to see when it was last updated.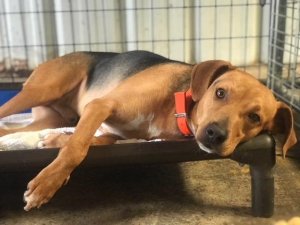 Shelton is an adult, medium-sized hound dog.  He is about two years old and weighs 43 pounds.  He came to ARNO from the Sabine Humane Society in Many (they were very full and they asked ARNO to take him in).  Shelton was found as a stray in a rural area.  He loves to cuddle with humans and hide out under the bed.  Don't be scared if he "jumps" on you, it is only to give a hug and who doesn't like hugs.  Shelton's foster family was training him to not get on furniture unless invited, but he still likes to sneak up on the bed at night to cuddle.  He shares well with other dogs and he LOVES to play, but he hasn't encountered any kids or cats with his foster family - he'll let you know how he does once he meets some!  He prefers a home with another dog because he would like someone to keep him company during the day.  Also, Shelton would love to have a backyard to run around in because he can run really fast!
For more information email: adopt@animalrescueneworleans.org. To complete an application, please visit: www.animalrescueneworleans.org
The adoption fee is $200 and includes spay/neuter, up-to-date vaccines, deworming, a microchip, heartworm test, and heartworm treatment if required.
Click here for more information about Shelton.
Click here for more information about ARNO (Animal Rescue New Orleans).