This is an archived article and the information in the article may be outdated. Please look at the time stamp on the story to see when it was last updated.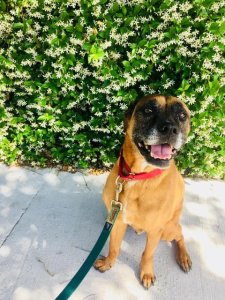 Rusty is about 12 years old, about 50 pounds and is a boxer mix.  He was once a family pet, but he had a knack for escaping the yard.  He is what you would call a senior sweetheart.  He's a pretty happy-go-lucky 'velcro' dog - he doesn't care what you are doing, as long as he can be near you he's good.  Rusty loves to cuddle with his human, walks, and treats!  He has a very gentle personality and lots of love to share.  He gets along with people and most dogs (especially those close to his size).  He doesn't really care for cats or being left alone for long periods of time because he's the most happy when he's near his human!  Rusty's ideal home is with someone that enjoys spending time at home and wants a calm buddy around the house.  He walks great on a leash, knows basic commands, and never gets into trouble because he prefers to just nap at his humans feet all day!  He just want you nearby, he knows this sounds clingy but he's not clingy - he just really loves you!  Rusty is in a foster home.  For more info please email adopt@animalrescueneworleans.org.
Rusty's adoption fee is $200 ($150 during November's Adopt-a-Senior month) and includes spay/neuter, up-to-date vaccines, deworming, a microchip, heartworm test, and heartworm treatment if required.
Click here for more information about Rusty.
Click here for more about ARNO.
*********
November is Adopt-a-Senior at ARNO.  That means adoption fees for senior dogs are cut by $50 and adoption fees for senior cats are cut by $10.
*********
To kick off the giving season ARNO is trying to raise $5,000 in 24 hours to help with surgeries for special rescues during #GivingTuesday starting tonight at midnight.
*********
ARNO has been chosen to win a grant of $5,000 from the PetCo Foundation, but they have a chance to win even more grant money if you vote for them!!  Click here to give them your vote!