This is an archived article and the information in the article may be outdated. Please look at the time stamp on the story to see when it was last updated.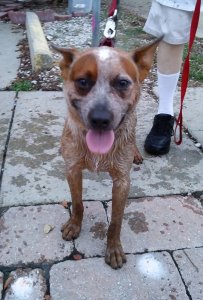 Ronald is an Australian Cattle Dog and he is about a year old.  He weighs 41 pounds.  Ronald came to ARNO from the Jefferson Parish Animal Shelter on the West Bank after he was found as a stray pup.  He loves swimming!  Pool time is his favorite.  Ronald has a very friendly personality and he likes to give hugs.  He gets along with humans and dogs alike.  He would rather not be in the shelter, but that's a given when you have a bubbly personality like his.  Ronald needs a place to call his home with people who love him... and a pool would be nice!
For more information email: adopt@animalrescueneworleans.org. To complete an application, please visit: www.animalrescueneworleans.org
The adoption fee is $200 and includes spay/neuter, up-to-date vaccines, deworming, a microchip, heartworm test, and heartworm treatment if required.
Click here for more information about Ronald.
Click here for more information about ARNO (Animal Rescue New Orleans).