This is an archived article and the information in the article may be outdated. Please look at the time stamp on the story to see when it was last updated.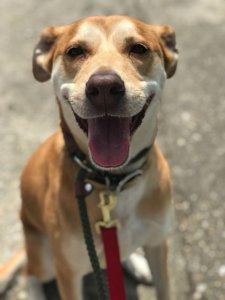 Rocco is about 6 years old and 40 pounds (the perfect lap dog size, right?).  The hound and terrier mix came to ARNO because his owner became terminally ill.  He loves to be lazy.  He'll go out and play for a little bit, but then he just wants to lounge around.  Rocco is housebroken and he knows a few commands like sit, shake, and lie down.  He has a sweet disposition.  His previous foster parent had a 10-year-old boy, and he was definitely one of his people.  He gets along with all people!  Rocco likes attention, but he's not overbearing; if you're willing to pet him, he is willing to be pet and when you are done he can take the hint.  He would rather not be in the shelter because he does best in a calmer environment.  All he needs is pets, a couch, and love.  Rocco can split a bag of chips and watch all the episodes of Friends because he'll be there for you.
Rocco's adoption fee would normally be $200, but is reduced to $125 under ARNO's Dog Days of Summer Promotion (all dogs over 40 pounds qualify for the reduced $125 adoption fee).  Fee includes spay/neuter, up-to-date vaccines, deworming, a microchip, heartworm test, and heartworm treatment if necessary.
For more information email: adopt@animalrescueneworleans.org. To complete an application, please visit: https://animalrescueneworleans.org/adoptfoster/.
Click here for more information about Rocco.
Click here for more information about ARNO (Animal Rescue New Orleans).