This is an archived article and the information in the article may be outdated. Please look at the time stamp on the story to see when it was last updated.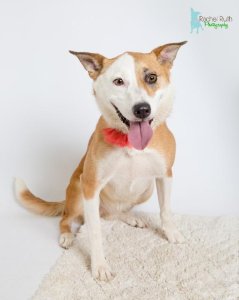 Paris is 3 years old and  weighs around 35 pounds - which is literally the perfect size for apartment or home living.  She came to ARNO from the Jefferson Parish Animal Shelter.  She was in foster care while undergoing treatment for the worms in her heart.  Paris did great there!  They got her all potty trained for her next forever home.  She is pretty chill at home but she is always up for a walk down Magazine or a trip to the dog park! For more information email: adopt@animalrescueneworleans.org. To complete an application, please visit: https://animalrescueneworleans.org/adoptfoster/.
Dogs: The adoption fee is $200 and includes spay/neuter, up-to-date vaccines, deworming, a microchip, heartworm test, and heartworm treatment if required.
Click here for more information about Paris.
Click here for more information about Animal Rescue New Orleans.
*********
ARNO has a Christmas tree decorated with pictures of their adoptable dogs at the Treasure Chest Casino for their Trees of Hope Contest.  People can vote everyday at the Casino for their favorite tree.  It can help ARNO win prize money.