This is an archived article and the information in the article may be outdated. Please look at the time stamp on the story to see when it was last updated.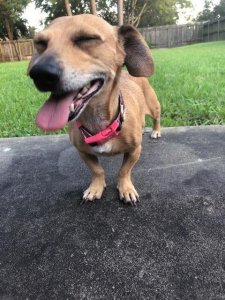 Olive is a one-year-old Dachshund mix and she is 9.2 pounds of sweet adorableness!  When she first got to ARNO, she was so scared that she wouldn't even look anyone in the eye and would not stop trembling in fear.  She might have been abused in her previous home, so it took her a few days to learn that people can be nice and loving.  And now Olive returns that love a million times over!  Her favorite things are exploring in the backyard, snuggling on the couch, and getting belly rubs.  She doesn't really play with toys, so you don't need to waste your money on those.  But her ultimate favorite thing?  Getting to sleep in bed with you!  She does a little happy dance when it's bed time!  Olive's foster family lets her sleep with them and they say that she's perfect for it.  She likes to roll up in a ball right next to you and dream of her forever family.  And she doesn't snore, she promises!  You'll rarely hear Olive bark or cause commotion because she is a polite little lady.  She gets along with dogs and cats.  She may tremble a little bit when you first meet her, but give her a day or two and she'll love you to pieces!  She is currently in foster care, so if you want to meet her, please do!  (And she wants to meet you too!)
For more information email: adopt@animalrescueneworleans.org. To complete an application, please visit: www.animalrescueneworleans.org
The adoption fee is $200 and includes spay/neuter, up-to-date vaccines, deworming, a microchip, heartworm test, and heartworm treatment if required.
Click here for more information about Olive.
*********
The Dachshund Dash will be held on October 20, 2018 at Oktoberfest beginning at 3 pm.  The registration fee is $30 and includes 2 entrance tickets for Oktoberfest on the day of the race.  Oktoberfest is located Bayou St. John across from City Park (1700 Moss Street, New Orleans, LA 70119).
Click here to register and for more information about the Dachshund Dash.
*********
Click here for more information about ARNO (Animal Rescue New Orleans).