This is an archived article and the information in the article may be outdated. Please look at the time stamp on the story to see when it was last updated.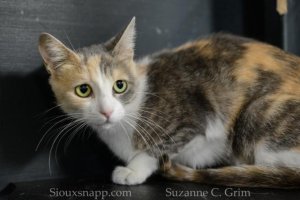 Meet Maison Blanche.  She was weaning her own litter of kittens when she was rescued and at the same time another younger litter of bottle babies entered ARNO.  Maison Blanche stepped up up immediately and accepted the babies as her own.  That litter was known as the "Ain't Dere No More" kittens and were named after historical New Orleans businesses.  Maison Blanche was jointly naked after a famous NOLA department store.  Her name translates to "White House."  After having taken care of 9 kittens, you'll see that she has maintained her loving & nurturing qualities.
Maison Blanche loves being petted and will purr like a puttering old motorboat.  She can be shy at first with new people and environments, but be patient because once she feels more comfortable, she will come forward with love and looking for belly rubs.  If you want to know the secret quick-route to making her feel more comfortable, be sure to bring her wet food.  She will gobble it all up and thank you with head-butts!
She has the most beautiful bright pastel green eyes that will just melt your heart and you won't be able to resist her sweet disposition once she's bonded with you.  Her caretaker likes to brag that she'd make the best service animal with the right training & devotion to help her acclimate because she is so easy-going and affectionate.
She gets along with pretty much any person or animal who is kind to her.  She has only been know to hiss when she was protecting her litters of babies.  If she feels scared or unwelcome, she will hide, but if you pop the lid off of that can of wet food, she'll come back out.
Maison Blanche would rather not be around bully-cats.  They make her go into hiding.  She is a lover, not a fighter.
She needs a happy home with a human in need of my nurturing love.  She promises that she will make you feel so special & will ask for very little from you in return.  She is the easiest & cleanest roommate that you will ever have!
For more info please email adopt@animalrescueneworleans.org and click on adopt to fill out an application.  You can visit her daily from 2-6pm at ARNO Shelter, 271 Plauche Street in Jefferson, La.  There is a summer special.  Cat adoption fee for an adult is $50 or two for $85.
Click here for more information about Maison Blanche.
Click here for more information about ARNO.