This is an archived article and the information in the article may be outdated. Please look at the time stamp on the story to see when it was last updated.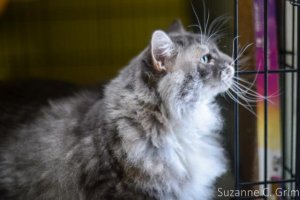 Lily is an adult, female Maine Coon.  She has beautiful gray eyes.  She was originally adopted in 2010, but her mom developed an allergy to her and she returned to ARNO in 2016.  She loves visitors, nice pets, and a good brushing.  She gets along with other kitties.  Lily is currently in a condo with a few other age appropriate kitties.  She would rather not stay in the shelter, because she is used to living in a home.  She needs a nice warm bed, cuddles, and pets.  For more information email, adopt@animalrescueneworleans.org.  To complete an application, please visit: https://animalrescueneworleans.org/adoptfoster/.
The adoption fee is $75. This includes spay/neuter, up-to-date vaccines, deworming, a combo FIV/FeLV test, and a microchip.
Click here for more information about Lily.
ARNO cat lead and cat PR person, Reesi Turchi does a regular video every Friday after 3pm called Cat Chat.  It is posted on the ARNO Shelter Adoptables Facebook page.  You can check out past videos here.
Click here for more information about ARNO (Animal Rescue New Orleans).