This is an archived article and the information in the article may be outdated. Please look at the time stamp on the story to see when it was last updated.
Ben's Salted Peanut Butter Keto Bites pull double duty for these scary-good Monster Cookies! Whip up a double batch of the PB Cup "Minis" to have extras on hand for a low-carb keto-approved snack to help fend off Halloween candy cravings!
SALTED PEANUT BUTTER CHOCOLATE KETO BITE MINI (low-carb, GF)
Ingredients:
Chocolate layer:
1/2 cup cocoa powder
1/2 cup coconut oil (melted)
1/4 + 1 tablespoon Swerve, Confectioners
Peanut Butter Filling:
1/4 cup creamy peanut butter or almond butter
1/8 cup coconut oil (melted)
1/8 cup Swerve, Confectioners
1/2 teaspoon Kosher Salt
Instructions:
Line mini-cupcake tin with cupcake liner.  Combine chocolate ingredients and mix well.
Place 1/2 tablespoon in each mini-cupcake liner.  Place in freezer for 10 minutes.
While chocolate is setting, place peanut butter filling ingredients in small bowl and mix until well combined.  Remove mini-cupcake pan from freeze and place a teaspoon of peanut butter filling on each layer of chocolate.  Return cupcake pan to freezer for 5 minutes.
After 5 minutes, remove cupcake pan from freezer, and place 1/2 tablespoon of remaining chocolate on hardened peanut butter filling.  Place back in freezer, and let freeze for 10 minutes.  Remove from freezer and place in refrigerator. (Can make ahead of time).
PEANUT BUTTER COOKIE (or any favorite low-carb cookie recipe) (low-carb GF)

Ingredients:
1 egg
1/4 cup Swerve, Brown
1/4 cup Swerve, Granular
1 cup chunky peanut butter or almond butter
1/2 teaspoon Kosher Salt
1 teaspoon vanilla extract
Instructions:
Pre-heat oven to 350 degrees, and line cookie sheet with parchment paper and set aside.  Combine all ingredients in one bowl.  Scoop with tablespoon or small cookie scoop on to prepared cookie sheet.
Place in oven, and cook for 12-15 minutes.  Remove from oven and let cool on cookie sheet.  Can make the day before.
Chocolate Ganache
Ingredients:
2 ounces Lily's Baking Bar or dark chocolate baking bar
2 tablespoons milk or almond milk
1 teaspoon sour cream
Icing bag and small icing tip
Instructions:
Combine all ingredients in sauce pan and place on low heat.  Whisk until all ingredients are well combined.  Put in icing bag with small tip.  Set aside and let cool for 10 minutes.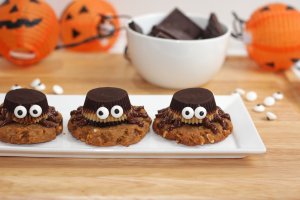 TO ASSEMBLE MONSTER COOKIE TREATS:
Place cookies on countertop or cooling rack.  Put a small dollop of ganache on middle of cookie and place peanut butter cup upside down on middle of cookie.
Draw 4 legs with ganache on each side of cup ( this makes the body of the spider or monster).
Place a little bit of ganache on the back of candied eyeballs and place two eye balls or one in the middle of the peanut butter cup.
Now you have your silly and frightful monster!
Note: Candied eyeballs can be found at Party City or you can use M&M's. You can also make a sugar free glaze and paint on your eyeballs.
Per Monster Cookie, assembled: 250 calories, 23 grams fat, 10 grams saturated fat, 180 mg sodium, 21 grams carbohydrate (3 grams net carbs), 4 grams fiber, 2 grams sugar (0 added sugar), 7 grams protein
Per Salted Peanut Butter Chocolate Keto Bite Mini (without cookie): 100 calories, 10 grams fat, 8 grams saturated fat, 90 mg sodium, 6 grams carbohydrate (1.75 grams net carbs), 1 gram fiber, 0 sugar, <1 gram protein.
###
Swerve Giveaway: http://www.rafflecopter.com/rafl/display/70632c7932/?
###
Want more from Molly?  Click here to sign up for Nutrition Bites, her weekly e-newsletter with links to her Get the Skinny TV segments here on WGNO, and her weekly column in NOLA.com|The Times-Picayune!   And you can follow Molly on Facebook, Twitter, & Instagram:  @MollyKimballRD