This is an archived article and the information in the article may be outdated. Please look at the time stamp on the story to see when it was last updated.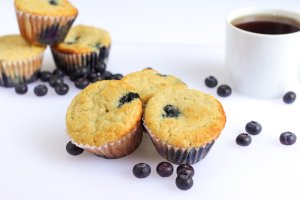 It can be a challenge to get enough protein at breakfast – especially if we tend to reach for sweeter breakfasts like cold cereal and baked goods.  Fortunately, there are several varieties of breakfast cereal, as seen in this morning's "Love It, Like It, Hate It" segment.  And if you're craving a sweet treat for that first meal, we've also got you covered with these protein-rich blueberry muffins by Ben McLauchlin of Swerve Sweetener – naturally gluten-free, zero added sugar, and only five grams net carbs per muffin!
Blueberry Protein Muffin
Makes 16 servings
Ingredients:
1 1/2 cups fine ground almond flour
½ cup coconut flour
½ tsp of salt
1 cup unsweetened protein powder
2 teaspoons baking powder
1 teaspoon baking soda
1 cup Swerve granular
1/4 cup melted butter
3 large eggs (room temperature)
¾ cup unsweetened almond milk
¼ cup of unsweetened yogurt or sour cream
2 teaspoons lemon zest or 1/4 tsp of lemon extract
1 teaspoon vanilla extract
1 1/2 cups fresh or frozen blueberries
Cinnamon/Swerve blend, optional; for sprinkling on top
Instructions:
Preheat oven to 350 degrees.  Grease 12 wells of a standard muffin pan, or line with muffin papers.
Stir together the dry ingredients in a medium-sized bowl; set aside.  Whisk together the melted butter, Swerve, eggs, almond milk, yogurt, lemon zest or extract, and vanilla.  Stir the dry mixture into the wet ingredients.  Scrape the bottom and sides of the bowl, and continue to mix just until blended – a few lumps will remain.  Fold in the berries, then fill the muffin cups almost full.  Sprinkle with cinnamon-sugar, if desired.
Bake for 22-24 minutes, until a cake tester inserted into the center of a muffin comes out clean.   Remove the muffins from the oven, and after 5 minutes transfer them to a rack to cool or eat warm.
 Per serving: 170 calories, 11 grams fat, 3.5 grams saturated fat, 290 mg sodium, 23 grams carbohydrate (5 grams net carbs), 5 grams fiber, 4 grams sugar, 10 grams protein.
Click here to enter the Swerve giveaway.
 ###
Want more from Molly?  Click here to sign up for Nutrition Bites, her weekly e-newsletter with links to her Get the Skinny TV segments here on WGNO, and her weekly column in NOLA.com|The Times-Picayune!  And you can follow Molly on Facebook, Twitter, & Instagram:  @MollyKimballRD