This is an archived article and the information in the article may be outdated. Please look at the time stamp on the story to see when it was last updated.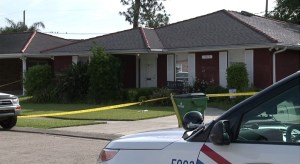 METAIRIE, La. (WGNO) – A double murder overnight in Metairie is still under investigation by the Jefferson Parish Sheriff's Office. Investigators say 55-year-old Elizabeth Pence called them from her bedroom just before midnight Wednesday after she heard gunshots and glass shattering at her home near Clifford and 9th.
Her son, 25-year-old Nicholas Pence was found dead on the living room floor with multiple gunshot wounds. His father, 56-year-old David Pence was found dead in a reclining chair. He had also been shot multiple times. Investigators say there was no forced entry into the home.
Sam Liljeberg, who lives in the home across the street from the Pence family, is in shock. He and Elizabeth grew up together, both now living in their childhood homes.
"It's always been a quiet, safe neighborhood. You never feel like there's a bad time to come out of the house. I mean, I have a 12-year-old and a 16-year-old and I would love to know that it's still the safe, quiet neighborhood it's always been," said Liljeberg.
Liljeberg says the Pence family was friendly and popular.
"We're all good friends, we've gone over there to watch Saints games many times. I mean they're quiet — there's rarely any — in fact, there's never ever any kind of trouble," said Liljeberg.
Liljeberg said David Pence was a kind man, who worked at an IT company with one of their other neighbors.
"Very nice, quiet, straight-laced man. He does his job, comes home, takes care of his family. A good father," said Liljeberg.
He says Nick Pence was a good son.
"Nick, I mean, he was always polite, always said 'hello' and 'goodbye'. He never ignored you when he passed by. He and his friends were always out playing. They'd be out [in the neighborhood] or they'd be out by the lake playing frisbee, ball all that," said Liljeberg. "They were never in trouble. When they went out — if they knew they were going to be drinking, they'd call a cab. They wouldn't even try to drive."
Liljeberg said Elizabeth Pence worked at Jefferson Parish Public Schools and was a dear friend.
"Beth is a — we've been friends forever. She's a lot of laughs, she's a good person, she's always worked hard, she always took care of her kids — she and David. She came from good parents, she has a sister and a brother, and also just lived a good, steady life," said Liljeberg.
Neighbors stood in their lawns watching investigators in gloves walking in and out of the silent home surrounded by crime tape, examining, taking pictures with cameras.
"It's still just so eerie and weird. I mean, this sounds so cliche. You see this on the news. You don't see it in your front yard. And to see, my neighbor's house, who I have known, and especially Beth, with crime tape all around her house, — it's really scary and puzzling," said Liljeberg.  "I'm standing with my arm around my daughter like I don't want to let her go. You got to grab every moment while it's here."
David and Elizabeth Pence also has a college-aged daughter. She was not at home during the shooting.
Investigators say nothing has been reported stolen from the home, at this point,  and this appears to be an "isolated incident."
But, investigators did confirm that a bike that belonged to the Pence's next door neighbor was found in a different neighbor's driveway across the street. Also, at the corner of Clifford and 9th, a purse that was inside of a Volvo, was found outside of the car. Its contents were found thrown out on the road. If you know anything, call Crimestoppers at 822-1111.
If you know anything, call Crimestoppers at 822-1111.