This is an archived article and the information in the article may be outdated. Please look at the time stamp on the story to see when it was last updated.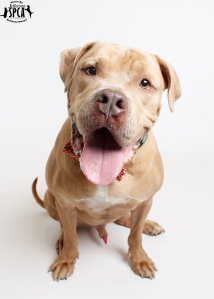 Chico and his siblings came to the Jefferson Parish Animal Shelter (East Bank) four and a half years ago as orphaned puppies, about a week old.  Mama, a black lab whose puppies had been adopted two days before, nursed and cared for the litter in our director's office.  Staff, especially clerks named the pups and gave them so much love and early socialization. Chico even got extra attention from one of the clerks who didn't mind saying she liked him best.  All the pups had quick adoptions.
Chico, formerly known as Yoda, did get adopted, but was recently surrendered by his owner who was moving.  Chico is good with children and house trained.  This Teddy Bear may weigh 93 pounds, but does not use any force at all!  He is very easy to walk on a leash and handle.  The JPAS feels he would do great with any person or family.  Chico is a super sweet boy who loves to offer kisses to everyone!
Chico has been a well behaved office dog.  He just hangs around to soak up love and affection as often as it is offered, or he lies down to take a nap, always happy to sit up to meet new people.
Chico's former foster says that he is lazy and likes to sleep a lot.  He is very well behaved.  He is would prefer to be your one and only pet in the home.  He gets carsick easily, so he would also prefer to be a homebody.
People who adopt adult dogs seldom know what their dog looked like as a puppy.  The JPAS will happily send his adopter more of his puppy pictures.
Volunteers and staff love this fellow and want him to have the great home he deserves.  Please share to help him find it.
The Jefferson Parish Animal Shelter adoption fee is $67.  The adoption fee includes vaccinations, mandatory spay/neuter, heart worm test, and microchip.
Please provide the ID number (EO-09-06-08) at that time.
Jefferson Parish Animal Shelter – Eastbank
1 Humane Way, Harahan, LA 70123
(504) 736-6111
Email: jpasadoptEB@gmail.com to adopt
Email: jpasfosterEB@gmail.com to foster
Click here for more information about Chico.
Click here for more information about the Jefferson Parish Animal Shelter.